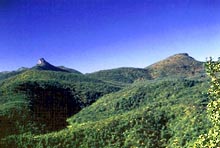 The shop is located at the foot of the Blue Ridge Mountains in Western North Carolina. Little known to people from outside the state, Western North Carolina has over 2,000 miles of public water for your trout fishing pleasure, most found in areas noted for natural beauty. There are approximately 1,000 miles of "hatchery supported" or stocked streams, 1,000 miles of "Wild" or native water, and 35 miles of "Delayed Harvest" water in which fly fishers can polish catch and release skills on stocked trout for 6 months of the year and keep fish for the remainder. Additionally, there are around 2,000 miles of trout waters that are on private lands. Within nine miles of the shop one can find native brook trout. Native brown and rainbow trout are closer than that. We at Table Rock Angler promote catch and release fishing in order to preserve the resource for all to enjoy.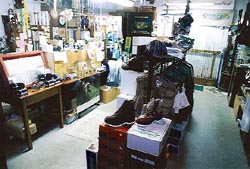 Table Rock Angler is a small shop found away from the bright lights of city streets, but has more actual fly fishing and fly tying materials than most of the larger shops in NC. We do not carry backpacks, climbing gear, canoes, sleeping bags, and clothing except for a few T-shirts and hats. It is strictly a fly fishing specialty shop close to some of the best native trout waters in western North Carolina. Table Rock Angler is the oldest continuously owned fly fishing specialty shop in the state, and the owner has over 45 years of fly fishing experience. Table Rock Angler's reputation is built on quality personal service instead of quantity internet sales. We meet customers by appointment to insure that you have the attention you deserve. Selecting proper articles to suit your individual needs for the water you are fishing can require experience. We are prepared to discuss how items of equipment will be used and whether or not they are absolutely necessary. We have the patience, knowledge, and experience to help you with these choices. When shopping with Table Rock Angler, you will not be loaded down with unnecessary gear.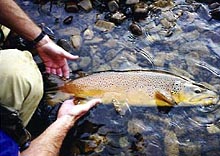 When considering trips to western or northern states, we are prepared to recommend the names of rivers and the gear to fish them. We also have maps and reference material to a large number of rivers in western states. Another reason to feel confident with our shop is that we are happy to share what we have learned from our travels.
We have a broad customer base built on word-of-mouth that extends from Alaska to California to Florida to New England. We find our clients to be very trustworthy and do extend mail order privileges to them.
This page is intended to be informational and will be updated with fly patterns, fly fishing tips, and stream information. We invite you to check in often in order for we might share our knowledge with you.
Call for directions to the shop. Our shop phone number is: (828) 433-RODS (7637) We ask kindly that you call between the hours of 9:00 am and 9:30 pm eastern time. Fax number is: (828) 433-5523 Mailing address is: Table Rock Angler, 4515 NC 181, Morganton, NC 28655 E-mail address is: [email protected]