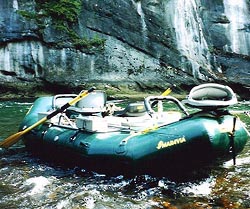 Float trips are the best way to access a river in inaccessible places. It places you over fish that cannot be accessed because of posted land and pools too deep to wade. It provides for a day of scenery, adventure, and relaxation. It opens a new world for the fly fisher who has only previously waded and allows one to cover more of the river than could ever be covered by wading in one day. Some of the float trip fishing methods may be a little different, but your guide will be there to help. On these trips, the chance to wade certain remote shoals will produce better results than actually staying in the boat.

On float trips, your guide will carry an extra rod or two rigged for different fishing situations so that you may instantly fish a different type of fly to cover certain spots. This eliminates you having to totally change a rig on your own rod. Your guide will take pictures of you during the trip to share with you later.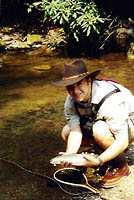 Trout fishing, whether in a boat or wading a mountain stream, presents normal hazards delivered by Mother Nature. You will be in water that may be cold, with an uneven stream bottom, and the rocks can be quite slippery. The currents can be deep and quite strong in places. Felt soles are a must. Do not bring studded boots! Studs cannot be used in a raft or drift boat and can actually increase the likelihood of falling on some polished river rocks. A rain jacket should be part of your gear because we all know that if you do not bring one, it is going to rain! An extra shirt or jacket may be necessary as temperatures change during the day. Fishing backcountry streams can involve a strenuous hike and it is requested that you be physically prepared to deal with a hike and some serious boulder climbing while in stream. The use of alcoholic beverages is not recommended as it increases the likelihood of an accident in places that already have a multitude of hazards. White, pink, yellow, light blue, and similar pastel colors are a definite no-no! You are trying to hide from the fish you want to catch!
GIFTS! Giving a guided day of fishing is a wonderful way to leave someone with a lasting memory and the opportunity to hone skills for a lifetime of pleasure.